Noble drop power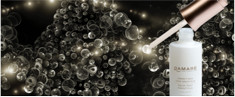 Serums are designed to work on specific skincare needs, for example fine lines and wrinkles or pigmentation. They are usually light and
water-based, and
therefore used as a booster or treatment underneath a cream. Serums contain the most potent dose of active ingredients you can find in nonprescription products. These highly concentrated potions are made up of very small molecules, formulated to hold active ingredients for more ready absorption and deeper penetration into the epidermis.
Because serums can penetrate deep into the lower epidermis layers, they can reverse skin damage, repair and treat different skin conditions and slow down the ageing process. They also enhance the performance of creams and boost their effectiveness for long-lasting results.
When choosing a serum, give the preference to the one with in pump bottles that dispense just the tiny amount you need. Those few concentrated drops are super-efficient since the active ingredients in a serum penetrate your skin faster and more effectively. When you are subject to hot climates or oily skin, they may even work better than other products. Just remember to apply serum after cleansing your skin and before moisturisers and other skin care, because otherwise the serums won't be absorbed into the skin. But keep in mind that serums should be used over a longer period of time (2 to 3 months) to achieve its optimal effect.
|||||

0
Like
|||||